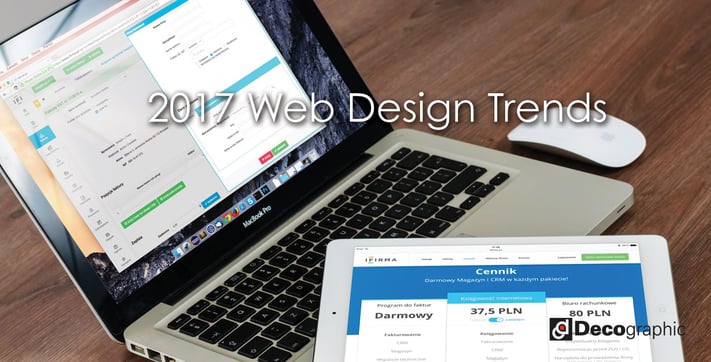 Nowadays, trends and technology move so fast that what may seem new to you may just be out of style. Having a website that is old and outdated will probably make your client or prospects leave your website. Read more to learn new 2017 web design trends, and how you can implement them on your website.
1. Bold Typography
In order to put a strong foundation on your website, having big and bold fonts keeps your prospects and customers glued to your site. It allows them to visually go over the brand and the product they have been looking for. Bold typography is the stronghold foundation of your site which makes it vital in designing homepages.
2. Visual Content
Now that you have taken care of your typography, you can now focus on the videos, images, and all of the visual content on your website. Don't forget that your images, videos, gifs, infographics should be running smoothly on your website. If it takes too long to load, then your visitors will most likely go to your competitor's website instead. Focus on adding movement rather than static pages. Full-screen slideshows and super hero images will gain your visitor's attention and allow them to stay longer and even click on some pages.
3. Experimental Compositions
Whether you're a professional or amateur web designer, there are techniques to capture your customers and prospects. Keep in mind that the internet community is as wide as the ocean. This gives you reason to allow your brand to stand out. 2017 is the year to come out in the open and face the tough competition in the market. Although there may be quite a number of possibilities, it is still wise and safe to define your target market and work around them.
---
How are you ranking on search engines? Find out FREE: