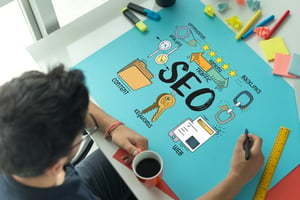 When it comes to marketing and branding, there are what seems like endless options for strategies. But search engine optimization (SEO) is one tactic that is becoming increasingly important in today's digital world. Unfortunately, some businesses still don't understand the importance of SEO. So let's take a look at a few reasons businesses should invest in SEO services through an internet marketing company.
Visibility on search engines: The most important reason to invest in SEO services is to ensure your website and pages will show up in each engine results. This is exactly what SEO is designed to accomplish -- when consumers search for items, keywords, or services, your optimized pages with similar keywords will show up in the results. With Google having almost four billion search queries each day, it's more important than ever for businesses to have high rankings. Because organic search is one of the main sources of website traffic, businesses need their pages to show up in search results.
Increased creditability: When a consumer searches for something on the Internet, they know the sites that pop up in the search results are reliable for the most part. When Google recommends a site to a user, they usually listen. So by utilizing the help of an SEO agency, your website can have increased credibility. Now, consumers may not always look at it this way -- they tend to simply start at the top of the search engine results list and work their way down. But high search rankings generally mean a company has more credibility.
Provides consumer insight: SEO helps to generate traffic, which is good for the business in itself. But furthermore, an internet marketing company can track this traffic and give businesses better insight into their customer base. The data received from tracking traffic is invaluable -- businesses can know more about how their customers use search engines, which type of technology they're using for searches, and where they live in the world. All of this information can be then used in marketing tactics to reach a more specific target audience.
Marketing consulting firms tend to recommend SEO to their customers because it works. From building a reputable brand to increasing web traffic, SEO can provide endless benefits to companies of all sizes and styles.