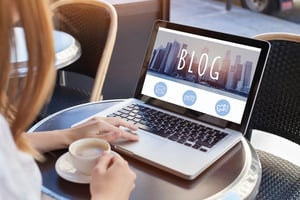 Creating engaging content is one of the most important things a small business can do online. In fact, it's the hallmark of every successful digital marketing strategy. When used properly, content marketing can generate at least three times the number of leads as traditional marketing efforts. And nothing helps with content marketing more than a good blog. Though your internet marketing company can help you set up the page, it's up to you to make sure the content produced fits your business and your needs. Wondering how to make sure your business's blog is as successful as possible? Here are a few simple tips to help you start, maintain, and grow your blog.



1. Post Regularly
Consistency is key when it comes to reaching readers and promoting your company through your blog. That means you'll need to post regularly and continue to do so indefinitely. Decide how often you want to post a new blog. Once a week is a great place to start. Then, make sure you stick to that schedule. Create a list of topics you feel comfortable enough to write and share your knowledge with your readers. Just make sure to stick to that schedule!
2. Pay Attention to Formatting
Have you ever found a webpage that just seemed hard to read? Chances are it didn't have subheadings, lists, or bullet points that make it easier to skim the content. Use these things on your blog. They break up blocks of text into digestible chunks and make it easy for your readers to find the information they're looking for in the article.
3. Edit, Proofread, or Find Someone to Do It for You

Misspellings and mistakes make your blog look unprofessional. After you write the blog post, take the time to reread and edit your work. If you're not comfortable catching your own mistakes, see if your internet marketing company can help out. While they're editing, they can also take care of search engine optimization (SEO) for the post. This makes it easier for search engines to find your content when people enter search terms similar to your topic. Best of all, it boosts the visibility of your website!



4. Make It Eye-Catching
Your blog needs to look as great as the rest of your website. If you've chosen a custom layout for your webpages, speak with your internet marketing company to see if they can help with web design for your blog. It needs to stand out while also matching the theme of the rest of your website.
5. Ask for Help
Writing a blog can be tough, even for experienced writers. If you're really not comfortable with creating your own content, speak with your digital marketing agency. They'll be able to help you find a writer to keep your blog updated. All you'll need to do is approve the topics!
Finding the best
internet marketing company Miami
businesses need to help them grow can be tough. But once you do, your company will have the tools it needs to grow and thrive. Schedule a consultation with an internet marketing company today.