Website conversion is often touted as the 'holy grail' of online marketing - and with good reason. Without conversion, it doesn't matter how many visitors you have, you will be missing out on important sales and revenue. If you aren't happy with your website conversion rates, you aren't alone. A study done in 2016 found that nearly 80% of businesses were not happy with their website conversion rates.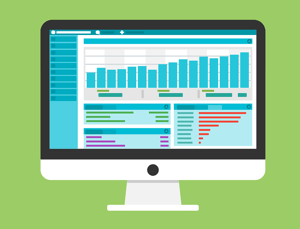 If almost 80% of companies aren't happy with website conversion, what is the difference between them and the 20% who are? It could be that the 20% who are happy just have lower standards. However, we think it's something different. Doing business online is constantly changing. The demographics of who uses the internet and what they use it for is shifting constantly. That means the rules for how to play the game are shifting too.
In order to increase web design efficiency, it is important to stay on top of the newest trends. We get it, you aren't all involved as a website development company. As a website development company ourselves though who specializes in SEO strategies, lead conversion, and web development, we wanted to share with you some of our favorite tips for 2019.1
Lead Conversion in 2019: Top Tips
Capture ALL the Data: This is perhaps the most underrated part of lead conversion. As a website development company, we see this all the time. Businesses have great websites and are generating good traffic, however, they aren't getting sales. Not only are sales not coming in, but they don't know WHY. Being able to track the data (and interpret it) is the first step to increasing conversion. Here are some examples of data points you should be collecting:

-How many visitors you get each day

-How long each visitor stayed on your site

-Where each visitor came from (Google, Facebook, etc.)

-How many "abandoned shopping carts" you have each day

-What is the age group of your visitors

-Is the audience male, female, or split

With data like this, any company can start making a plan to tweak online marketing to increase lead conversion.
Create Funnels: Not every visitor will purchase every product you have every time. That is normal and as it should be. Create a "value funnel" for your website. You see this all the time with a good website development company too, even if you haven't recognized it yet. The start of a value funnel might be some sort of free offering you give to "hook" the visitor's attention. For example, if you were selling dog food, you might offer a free fridge poster (just pay shipping) that shows food that is and isn't good for a dog. That is the first step on the value funnel. As you provide increasing value for visitors, visitors will start converting at higher rates.
Create an Email Capture: This goes hand in hand with the value funnels. Create an email capture for everyone who takes advantage of your free offering. This gives you a way to both make sure that the visitor was happy with the free product and a way to re-market to them in the future.
Utilize Videos: Gone are the days when just images were enough to sell people. The online market today is very information saturated. In order to stand out, videos of your product, testimonials, and even of company management talking about the work day are all important elements that build buying trust and consumer confidence. Videos also tend to hold attention longer, increasing the time a visitor invests on your website. The longer you can keep a visitor on your website, the more opportunities you have to convert that visitor into a buyer.
Use the 8 Second Rule: For grabbing users attention once they hit your website, you only have about 8 seconds. Make sure those 8 seconds are used correctly. An eternal law of online marketing is that if you can get someones attention, you can leverage that attention to make money. Whether it's an incredible customer testimonial, a video, or a funny advertisement for your product - use those 8 seconds wisely.