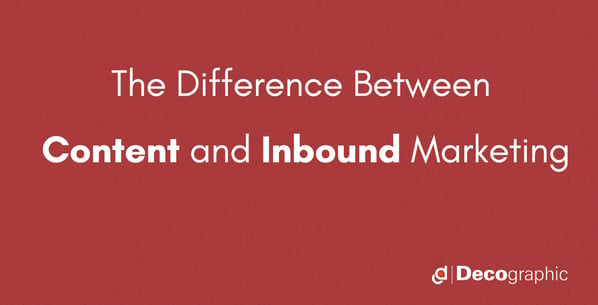 In today's world, it is not strange for terminology with almost similar functions to be used interchangeably. However, in business and in marketing, this is not encouraged. But there are times that the little differences that separate these terms are enough to bridge them to look like they are of the same meaning.
Let us take the terms of content marketing and inbound marketing and ask yourself this question: what best describes the relationship between content marketing and inbound marketing? And what is the difference between content and inbound marketing?
Both need each other
Content marketing is a subset of inbound marketing
Inbound marketing is a subset of content marketing
The are both synonyms of each other
---
Would you believe us that spelling aside, both can't live without each other? In fact, inbound cannot exist without content. After all, it is its life blood.
Another thing that is surprising is that front-office professionals agree that content marketing is a subset of inbound marketing. Just in case you're wondering, these front-office folks consist of the departments of marketing, sales and services with almost 60% of marketing and 30% of sales and services saying so.
Now here's the tough question: does inbound marketing and content marketing have a difference in concept and perception when platforms are placed into the equation? You will be surprised on how there is little influence a marketing platform can do to make marketers. According to the statistics, 70% understand the two terminologies. So it is safe to say that regardless of the software, marketers share the same understanding with inbound and content marketing.
The third question relating to our understanding of content and inbound marketing is directed to those who are not directly involved but are still exposed to it. Most of these people have interest in either digital marketing, inbound marketing or content marketing and the same questions were asked. It is surprising to see that there was hardly any difference in the answers at all. According to HubSpot's State of Inbound survey, the response of these people were times three, about 35% of the respondents, of the ones that came before them. In short, they all considered content as a part of inbound.
Do these responses all matter then? Yes.
It goes to show that it is not about the OR in the relationship between content and inbound but rather the AND of it. One cannot succeed without the other and it is inevitable that every marketers should be able to create a harmonious relationship between the two in order for one to succeed in the game of marketing. However, this does not mean they should also forgo other inbound projects such as SEO. Limiting yourself will not allow you to reach the goals that you have set for yourself, your team and your company.
Marketers should also take into consideration that every tool is an important asset, whether it is content or inbound.
---
Every day is a challenge for any marketer. In fact, there is so much to do in so little time, especially if you have to work during the holidays. So how can the overworked marketer deal with the pressure of meeting the quota every day? Simple,make use of tools that would help with marketing.
These are the 3 tips and tricks to be thankful for this holiday season:
Social Media Marketing Tools
Content Tools
Data Backup Tools
---