Inbound (hosted by HubSpot) is 3 day conference with inspiring keynotes, over 300 educational breakout sessions, new product releases, networking, and tons of fun! Our Marketing Director Daniela Beleván and myself had the pleasure of being part of the 24,000+ attendees representing the Decographic team for the second year in a row.

What's New?
Goodbye Funnel?, Hello...Flywheel?
In 2018, business owners nearly forgot about life after conversion. Once a lead closes as a customer, they would move on to the next thing. Whether or not that customer goes on to become a promoter was barely thought of. But that's not good enough on its own anymore. People who were once delighted with content now need to see proof of happy customers before they even consider making a purchase.
Every interaction your company has with a customer -- from that very first website visit to their latest interaction with a customer service representative -- shapes how they view your brand, and ultimately, what they tell the world about you. And your marketing strategy needs to reflect that. So HubSpot created the flywheel, a new way of thinking about how customers interact with your business at every stage.
Our take is the following. The flywheel should be the next step after the funnel. The funnel is still valid to explain how a visitor is converted into a customer. Prospects, even if they are a word-of-mouth referral will still go through the Awareness>>Consideration>>Decision stages.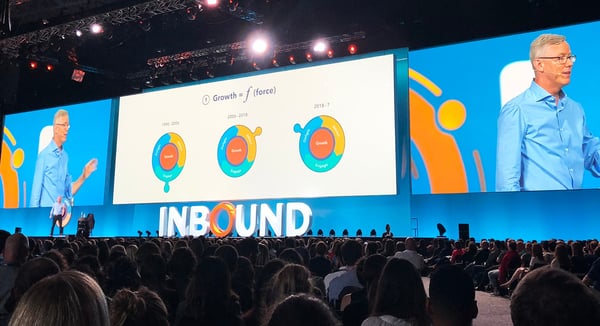 ---
2018 State of Inbound results are in!
Over 6200+ respondents in 99 countries from a many industries, company sizes, and levels of seniority.