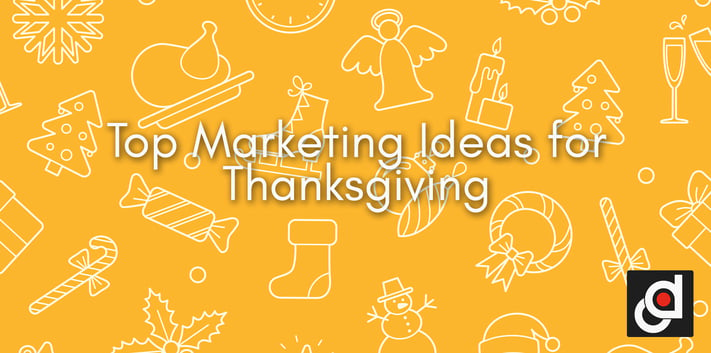 Statistics show that in 2016, Americans spent up to a whopping $1 trillion for Thanksgiving, and maybe even more. Forbes recently estimated that this spending trend will continue to rise, especially in 2017. This is actually good news especially for businesses because it will give you a chance to target a specific audience during a specific season while still aiming for business growth. All you have to do is to make sure to tap even into a small portion of those sales.
Since you are now highly aware of the purchasing power of your consumers during this special holiday, make it a point to start your holiday marketing campaigns during Thanksgiving. Effective marketing methods include identifying what is valuable for your customers, building a connection with your clients and promote customer loyalt by giving back and paying it forward than just simply overdosing clients with endless ads or coupons. Read on and find some top marketing ideas for Thanksgiving and the upcoming holidays.

RELATED: Small Business Marketing Tips To Be Thankful for This Thanksgiving
Value your Existing Customers
As the word suggests, Thanksgiving is a season where people remember the things that they are most thankful for. Express your gratitude to your existing clients by giving away coupons and offering valuable discounts. You may start your e-mail marketing campaign by creating a certain buying period where customers can take advantage of the coupons you are giving away. Isn't it nice to give thanks to the people who have been loyal to you through the years and helped your business grow? This will also allow your customers to come back to you after the holiday season too.


Avoid the Black Friday Frenzy
The brains of our consumers seem to be wired to get excited when sales are announced. This usually results on impulsive buying and regret over things they bought just for the sake that it was on sale. On the other hand, people admire businesses that show love and care to their employees by giving them the chance to spend the holidays with their loved ones. You may communicate and listen to your customers by telling them that you will close or have special business hours during Thanksgiving or Black Friday.


Engage in Charity Work
The Thanksgiving holidays initiate that time of the year when we are all encouraged to pay it forward to our communities as a symbol of our gratitude. You may choose to partner with an existing charity group even just in your locality and show your generosity by donating a specific percentage of the sales that you have obtained over the holidays. You may also engage your clients by informing them that a part of the money they use to pay for your products will go to the specific charity group that you have chosen. This way, you are able to connect with them and communicate the things that matter to your business, such as giving back and paying it forward.
---