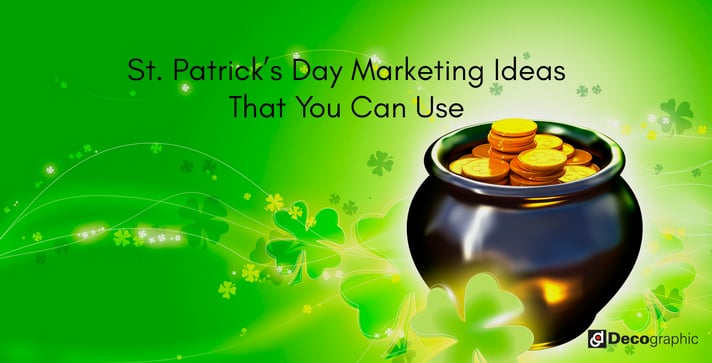 When there is an event or a holiday and you are looking for ways to boost your marketing campaign, then you need to plan it out ahead of time in order for the campaign to work. A certain holiday that marketers like to take advantage of is St. Patrick's Day, held every March 17th. With the holiday approaching this year, here are a few St. Patrick's Day marketing ideas that you can use so that you can take advantage of the celebration and promote your company at the same time.
1. Use hashtags
If you are familiar with social media marketing, you probably know that using hashtags is one of the most used marketing strategies when using social media. Take advantage of the St. Patty's hashtags (such as #stpatty #happystpattysday) and use them on your post whenever you add content to Twitter and Facebook. You can also use hashtags that are relevant to the holiday so that you can even get more followers as well. Make sure to use hashtags that relate to the holiday and avoid overusing the same hashtag or posting too much because it might annoy your audience.


2. Show your holiday spirit
During the Christmas holidays, you usually see employees dressing up in Christmas themed costumes like Santa Clause and reindeers. During St. Patrick's Day it is also important that you show your holiday spirit as well. On the day of the celebration, it's a good idea to wear green and take company pictures to post them on your social media pages. You can also post behind the scenes photos and videos of your employees which can please your audience on social media websites and help you connect with them.
3. Post funny pictures and videos
When posting content such as photos and videos on your social media pages, it is also good to add a little humor on your posts especially if it is related to St. Patrick's Day. You can also create custom memes that you can find all over the internet and post them to Facebook or Twitter. Add descriptions in your photo content as well, and watch all of the fun replies that you will get from your followers and audience.
4. St. Patrick's Day Sales
St. Patrick's Day is not a gift giving holiday like Christmas but this doesn't mean that you cannot give back to your customers. Make a sale during the holiday and also make sure that you add a good statement on your sales pitch that is relevant to the holiday. People like to take advantage of sales during holidays and celebration and St. Patrick's Day is no exemption. You can also inform your followers of your sale in your social media pages so that they can spread the word to their friends, which can make your holiday sales campaign to be even more successful.
---
We want to thank you, and offer you a free eBook with tips and tricks that can help your digital marketing campaign become successful. Leave us a comment below and let us know which has worked for you the most


#stpattysday #happystpatricksday