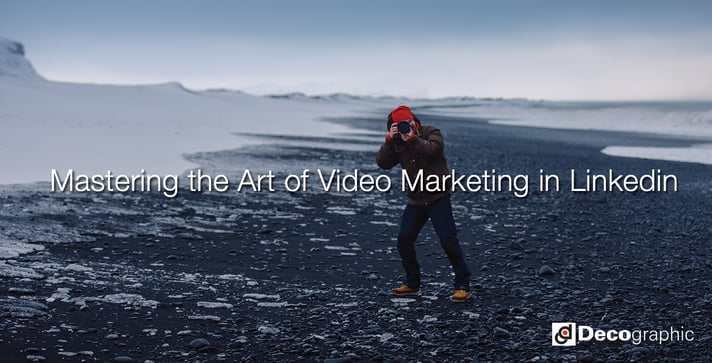 Using social media websites like Facebook, Youtube and Twitter for marketing has been around for a very long time. Social media websites have millions of registered users and visitors everyday so it's no surprise that it is a great way to market your business and gain lead generation. But besides the common social media networks, there are also other websites that you can use to market your business, one of them is Linkedin, a business oriented social networking service. The popular website is not only a tool for finding jobs or employees for your business, but it is also a great way to market your business as well.
---
You may be creating videos and posting them on Facebook, YouTube, your blogs and blogs of other people with hopes of generating traffic for your website and gain some potential clients. Linkedin might not be on the top of your list as the go to site to post videos but did you know that this is one of the most important websites when it comes to B2B marketing?
Here are great ways for you to begin mastering the art of video marketing in Linkedin


1. Maximizing your resume
Linkedin is a popular job searching website, people use them to put themselves out there in the professional field and put every bit of information they have in order to get noticed. However, not all employers and HR staff might be looking at your profile because they want to offer you a job, but there are some that look at your resume because they are looking for potential business partners. So if you are using Linkedin as a marketing tool, your profile should be all about your organization's services or products. One of the features that Linkedin has is that you are able to add videos to your profile. Adding videos to your profile along with your business information on your profile is a good combo towards generating clients or potential customers for your business.


2. Using other social media websites
Now that you have optimized your Linkedin profile, you can now use other social media websites to direct traffic to your Linkedin profile. You can use Youtube to upload your videos and post your videos to other websites with links directing to your profile in Linkedin.


3. Using your videos in the Linkedin Community
There are a lot of interesting groups that you can find on Linkedin, sometimes some of these groups are within your industry or business. You can take advantage of these groups by starting discussions with the other members and posting your video content there as well. Pasting your video links on the discussions is a good way to get noticed. Always make sure that you don't include irrelevant videos in someone else's discussion because it might cause you problems. Being active in groups can help you establish yourself as an industry leader and using videos is a good way for people to know that you are a human and not a bot.
---
Are you having trouble keeping your social media content under control? Download this free editorial calendar to help you manage your social media content.
Got any thoughts? Drop us a comment below!
#videomarketing #linkedin #socialmediamarketing #inboundmarketing
---