In January, Decographic had the opportunity to work with the Consulate of Canada in Florida. They were in search of a new, creative, re-branding to represent their team and mission in Florida, Puerto Rico and the US Virgin Islands. A unique element was needed to accompany the existing Canadian logo.
---
THE MISSION
Upon researching other missions in the United States, we found many examples of how to best represent their mission. Through several meetings held with the consulate's team and distinguished Canadians residing in Florida, together we gathered several ideas that were surprisingly unexpected, and others that were evident! "Don't use the orange" a few mentioned, it's overly used.
RELATED: Decographic Wins 2016 GDUSA and Florida Print Awards
CREATING THE LOGO
The creation phase was in motion once all the feedback was assembled. Several ideas were produced until the first viable candidate was considered. The consulate immediately liked the initial conception but there was an element missing. They explained that for many Canadians, Cape Canaveral is very representative of the State of Florida. How could we incorporate this? "A rocket" they said. Our first reaction was of surprise but then realized that as residents of Miami, we tend to forget that Cape Canaveral is but a few hours away.
We played around with several shapes and styles of rocket ships and that is when something that could be seen as unexpected became a perfect match. We are proud to say that the work was well received by the staff at the consulate. As part of the project, we developed a communication proposal that is currently being implemented. This proposal included the creation of a branding package that was made up of a letterhead design, envelope design, presentation folder design and social square card design.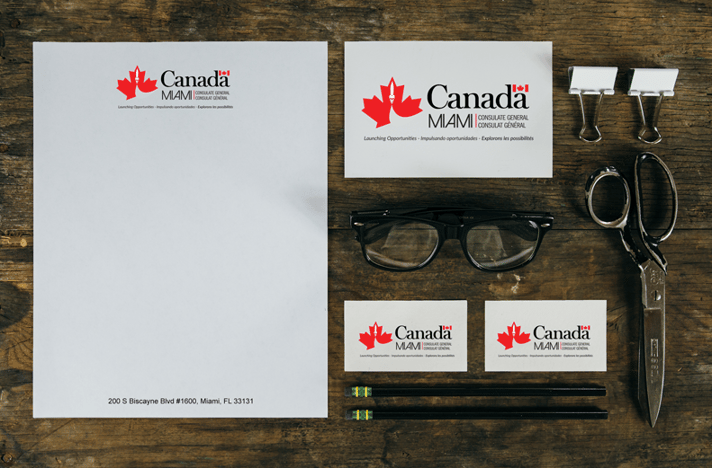 To accompany this package we created variations of the logo to be used for different events. The logo could therefore be customized with a background image that pertained to the nature of the event. Roll-up banners were also created for the purpose of such events.
SLOGAN CREATION
A slogan, or motto, was also launched, which the consulate has implemented in three languages. Spanish was added due to the predominantly Hispanic population in Miami and Puerto Rico.
We are thankful for the opportunity to work alongside the consulate's staff and their community to make this project a success. We look forward to future projects like this one, where all phases of the development process are equally important and the results truly make a difference.
---
Is your website outdated? Not mobile friendly? Maybe you're ranking low on search engines?
Find out FREE: