---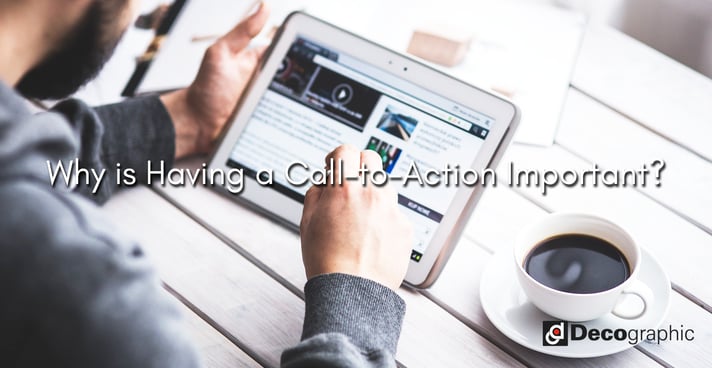 Why is having a Call-to-Action important? If your CTA buttons are generic or poorly utilized, then you will get very little attention and you will suffer the "Bad CTA" syndrome. Truth is, if you're using 'click here', 'buy now', or 'order now' as your CTA, then it might be time to start switching strategies. Having a strong CTA button on your website will help you increase user interaction as well as achieve other business goals.
First, let's start off by stating that CTA buttons are just buttons. They are not text, hyperlinks, gifs, memes or black holes. They are just buttons. The call to action is very important and essential so you should try to make it simpe, informative, and to the point.
READ MORE: Why You Should Consider Inbound Marketing Before a Website Redesign
CTA Considerations
If your users are not clicking on your CTA then clearly there is something going on. The first step in fixing this issue is to check your user and social data to find the root cause of the problem. There are things to consider when making your CTA button. First is the text. Ask yourself, is your action clear? Is it straight to the point? Does it communicate well to consumers? Next is placement. Is your CTA above the fold or is it in a place where visitors would most likely take action? Next thing to consider is the size. Ask yourself if your button is easy to locate. Is it sized appropriately for all users including those using mobile phones? Last one is the color. Does the CTA stand out from the rest of the page? Did you test other colors aside from the one that you used?
There are a lot of ways you can improve CTA button performance, and some include:
The Perfect Location
When it comes to placement, you need to put your CTA button in a place where it can make a direct impact. You may need to experiment with different placements first. Try different locations and see which has the most success. Try experimenting by putting your CTA in the middle of the page, and then try placing it towards the end. Different placement of your CTA may make a difference in its performance.
LEARN MORE: What are the Benefits of a Landing Page?
Action Oriented Text
A little motivation and a lot of action can really boost click rates. Use short but action oriented messages so that you can create a sense of urgency. The more action oriented your call to action words are, the more reactions you will get. There are a lot of websites who have a lot of success when it comes to choosing the right wording.
Choose the Right Color
If you think colors don't matter, then think again. Generally, bright colors such as green and orange usually perform better. However, sometimes it all goes down to the design of your site. Contrasting colors work best because they stand out. You don't want a green button on a green background now don't you?
---
Ready to see where your website is ranking on search engines? Find out for FREE below: