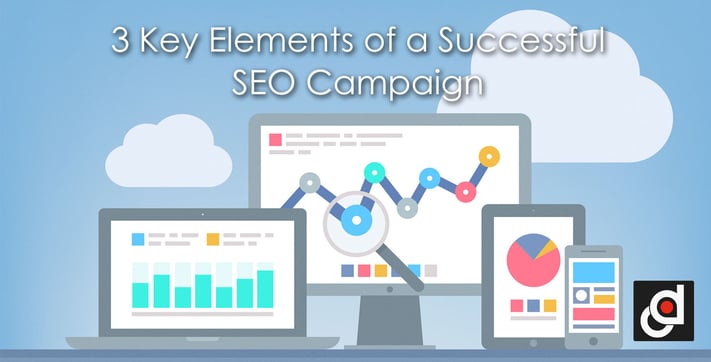 The concept of SEO is similar to building a structure that requires a solid foundation. Its objective is to sustain the challenges from competitors and the constant changes in search engine algorithms. Only websites that include these three key elements are expected to succeed in digital marketing campaign. Do you have them?
Below are 3 key elements of a successful SEO campaign:
Targeted Keyword Focus
Keyword research is considered groundwork of any successful SEO campaign. For you to bring a long-term success using keyword research, you need an in-depth analysis around all keywords that you find relevant to the products and services of your target website. Begin with searching general keywords, and then long tail keywords relevant to each of them, and lastly, other long tail keywords that are relevant to each of those. Repeat this process until you come up with a number of keywords. In doing so, you'll uncover some highly targeted keywords and those which can be easily ranked for.
Long tail keywords, which, are typically less competitive, convert better. Make sure that you also search for lateral keywords (words that have the same meaning as other targeted keywords). For example, if you're competing for aquariums keyword, you should also try fish tanks.
Optimized Page Elements
SEO is composed of several elements which are all helpful in improving search results, such as keyword optimizing. Your targeted search terms should be present in various places within HTML code because this tells the search engine what your website is about. So here are the following page elements that you should optimize:
Page Title. The page title or title tag should always be well-written with targeted search terms, having 64-70 characters length. It should never be string keywords or a single phrase keyword that's repeated several times. Keep in mind that an good page title is not only keyword targeted, but also engaging, in a way that will entice people to click and make your audience read your blog.
Page Headings. They should always have right format in the headings, and this includes the use of H tags like H1, H2 and H3. In formatting headings where they fit properly on the page content, you may use Cascading Style Sheets. In general, H1 tag is used on the main page heading while H2 and H3 for subheadings.
Image Alternate Text. Alt texts can be optimized by including targeted keywords having relevance with the image. An alternate text is used to tell visitors about the image, even more; it helps with keyword ranking image searches. But avoid stuffing too many keywords on the images. Keep the Alt text brief.
Link Anchor Text. The content of the website should include links to other pages of the website with keywords in the anchor text. The ideal strategy is to add two or three keywords into content with 150 or more words. Also, don't stuff too many keywords in it. Remember that linking within pages of your website doesn't give SEO benefits.
Quality Page Content
Websites with great quality content are given the highest position on search engine ranking. Search engines are constantly evolving to improve their performance in delivering better customer service. As they improve, you also have to improve your content. High quality means not copied from other website. It is unique and provides value to readers. Articles may include guides, frequently asked questions, fact sheets, common misconceptions, or how to's. Quality page content is not only beneficial on search engine optimization, but it also attracts other websites to link to you.
---