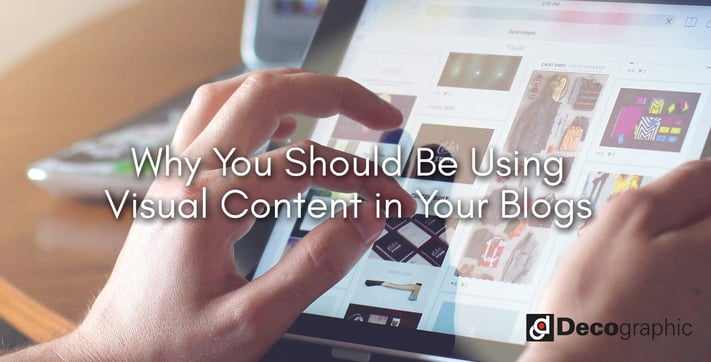 A number of areas of the brain work together in a variety of ways in order to produce the images we look at, which are encoded by our brains. This is how important human's visual perception is. Statistics show that 92% of forms of communication is visual and is processed 600,000 times faster than text. For retaining information, people only retain 10% of what they hear, 20% of what they read but a whopping 80% of what they see. But what's the real reason why you should be using visual content in your blogs? Find out.
These facts are enough to establish the truth that visuals largely affect marketing. Blogs with images for every 100 words are more likely to get more shares, almost a double in figure than articles with lesser images as stated in Buzzmo analysis. Read more to learn about the importance of visual content in digital marketing.
Here is a few information regarding the visual marketing trends for 2017.
1. For percentage statistics, content published with visuals take up to 91% to 100% as claimed by 40.5% of marketers. On the other hand, 90% of marketers stated that they used visual content in more than 50% of content published.
2. Different kinds of visuals are frequently used, but the top 2 among them are stock photos which take up to 35% and infographics which consume 30.4% of the overall percentage.
LEARN MORE: Why Your Company Needs Visual Content
3. Engagement of clients is very important with visual marketing, 41.5% of marketers claimed that infographics still holds the highest rank with the type of visual that had the highest engagement.
4. Time spent on making weekly visuals was also assessed and studies have shown that 71.1% of marketers stated that they spend less than 5 hours a week.
5. Various methods are used for making visual content but the highest percentage among the methods used are those utilizing an in-house designer.
6. No marketing method is achieved without struggles and when marketers were asked what's the biggest struggle they faced, 36.7% of them said that they are able to produce interesting visuals consistently despite these roadblocks.
RELATED: Why Visual Content is Important in Your Marketing Strategy
7. When marketers were asked how important visual content is to their 2017 marketing strategy, 31.7% said that visual content was very important while a huge 60.8% claimed that it was absolutely necessary.
8. So what is one of the most vital elements behind producing visual content? Undoubtedly, the budget. Marketers were asked how much of their budget was spent on visual content nd 31.6% stated that they spent a little less than 10% of their budget.
9. Aside from the actual budget, marketers were also asked their projected budget that they need to spend on visual content in 2017 and 35.5% forecasted that they would be spending more than one third of their total budget on visual content.
10. Visual content increases your conversion rate. Marketers predict that there will be an increased value in the utilization of visual content in the marketing strategies used by both small and big companies.
Start creating your visual content and help your company grow!
---
How are keeping track of your social media posts? Download this FREE editorial calendar: