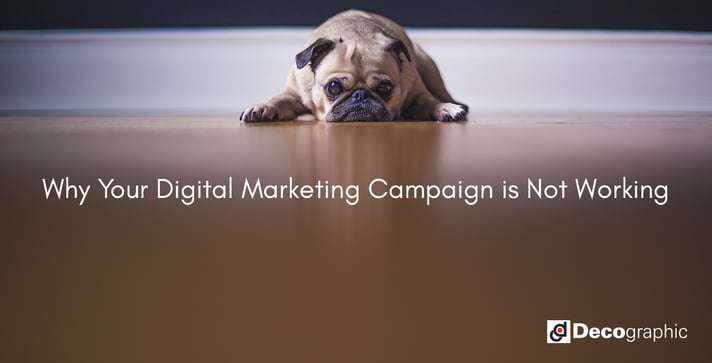 There are a lot of mistakes that you can make when it comes to digital marketing. Even if you are the most experienced marketer out there, mistakes can still be made, and before you know it you're losing clients and website traffic. If your marketing campaigns are not generating the desired results that you want, or if you want to increase the traffic in your website, here are some common digital mistakes that you might want to avoid or what you can do to avoid them. Continue reading to find out why your digital marketing campaign is not working.
---
Not planning your campaigns adequately
Many marketers fail when it comes to their digital marketing campaign because they are not setting their goals clearly or they do not have a good plan of action. Planning means discussing with your team on what needs to be done. It also means having a back-up plan in case your campaign is not generating the desired results that you want. Make sure that you analyze the needs, strengths and weaknesses and the goals that you need for your specific campaign. While it may take some budget to get it done, you can eventually see where your marketing campaign dollars go.

Overusing Social Media Websites
If you are an experienced digital marketer, you might know that social media marketing is one of the most effective ways to get your marketing campaign going. Social media websites contain millions of users logged in everyday and is the prime target when it comes to online marketing campaigns. Overusing these websites however can result in your campaign going downhill. When using social media sites, make sure that you use a site that your target audience frequently uses. Also it is important that you deliver information that is relevant to your brand or the product that you are selling. Over posting and using irrelevant information can lead to people unsubscribing to your page which is the last thing that you want.


RELATED: How to Make Social Media Visual Content Fun

Not paying attention to the content you are posting
Content is the most important factor when it comes to a successful digital marketing campaign. But in order for your campaign to work, you need to post content that is both relevant and engaging. If you post hundreds of videos, articles or images all day long and it does not contain the content that your target audience wants to see, you will never see good results in your campaign. Always look for elements that your visitors can see in your website that can turn them into long term clients. For example, video content is one of the more staple content in the digital marketing world. Using videos with good content and posting them in Youtube or Vine can save you a lot of money and can also be more engaging to your target audience as well.

Using mobile platforms
There are more mobile phone users than internet users nowadays, and plenty of digital marketers use this as a front for their campaign. Most of your target audience might fall in the 18-39 age range so many of them use mobile phones instead of desktop PC's. Mobile marketing should be used alongside with your online campaigns for your marketing strategy to be successful.
---
What are some constant SEO mistakes that you keep making? Download your FREE eBook and find out what you can do to better your campaign.
Do you have any comments or thoughts? Share them with us!