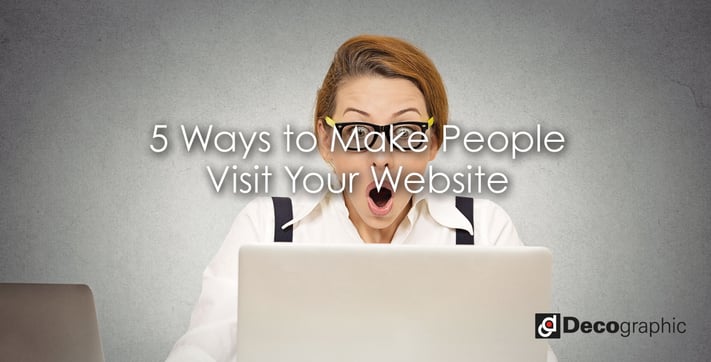 Getting people to visit your website can be a bit challenging, mainly because there are thousands of other websites today. To successfully grab your target audience, you need to know your product or service well enough which requires great effort to be put into action.
This blog will help you reach your goal with great ways to make people visit your website. By following these simple tips, you will be able to boost your website and let the audience know your presence.
1. Start a blog and keep up with it
Starting a blog is the first step to drive traffic to your website mainly because it will give visitors a taste of what your brand is all about. Creating a blog is simple, but the challenge lies in maintaining the blog and getting people to read your blog. It is also important to have a plan in mind so that your content will not become redundant or stagnant. You can also try to use the Internet to look for guides on how to write a blog that ranks high on Google.
2. Be a leader
You need to be able to produce content that is based primarily on ideas and observations about your respective industry. Become an influencer in your industry and create a blog that sparks the interest of other industry leaders. You must also take into consideration not only your efforts on driving traffic but your progress in your personal and professional growth as well.
3. Changing your email strategy
Email is one of the most effective direct marketing strategies today. That is why you need to be able to have a plan on how to effectively handle the emails. There are a lot of great products to help with the email responses such as Mailchimp, Boomerang and Mailtrack. These are applications that are easy to use and offer additional convenience when it comes to email responses.
RELATED: Why Email is Important For Your Marketing Campaign
4. Form a partnership
One way to get users to your website is to partner with another successful business to instantly gain followers. You should be able to have a symbiotic relationship with your partner to maintain the benefit that the both of you are getting. You should also be clear and honest and present the facts on why you are interested in creating a partnership with them. Most importantly, you should be able to convey what you can bring to the table. Companies are always looking for something that benefits them so it is important to give them what they want the first time. A partnership should be a shared experience of value, so make sure to bring something to the table as much as possible.
5. Be a social media master
Nowadays, it's important to keep your brand's online presence relevant and genuine. Don't post articles for the sake of keyword metrics and don't pay for followers to make your account more appealing to others. Own your brand's blog the same way you run your personal social media accounts to keep the authenticity of the blog itself.
Always remember your brand's mission on your website. You may experience a lot of downs along the way but if you keep your blog authentic and full on content for your brand, customers will come in no time.
---