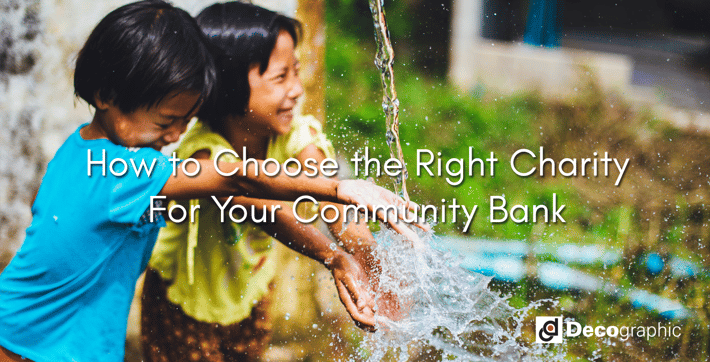 During the holiday season, it's always good to give back to people who need it the most. One of the best ways to give back is to engage in charity efforts that are being organized by charitable institutions. Most banks, but especially community banks, often times partner up with charity institutions, not only because it's a great way or gaining recognition, but at the same time can also help the less fortunate. Regardless of the size of the financial institution, clients always like to see their banks as a positive example.
---
Whether you are running a large megabank or a small community bank, the option of choosing a charitable institution must not always be taken lightly. There are some charitable institutions that might take advantage of your financial business which can sometimes cause crisis in your company. If you are a small community bank and you are looking to partner with a charitable institution, there are a few things that you might want to consider on how to choose the right charity for your community bank.


Learn More: How Community Banks Can Compete Against Megabanks


Examine first
Before you start on picking a good charity like say a children's hospital or a home for the elderly, it is always best to scout first before investing a large amount of money to that charity. For example if you engage in a charity with a home for an elderly and you notice that there are improprieties in the institution itself, it might present danger, not only for you and your company, but also for your executives and partners as well. Examining first and checking where the money goes is a good way to pick a charitable partner.

Let your employees and clients speak
One of the best ways to pick a charity institution partner is to let your employees and your clients choose what charity to engage in. There are thousands of charities out there and you might be thinking on engaging with at least 3 or 4 charities. When choosing one, let your clients and your employees choose by doing a small company survey in order to help you choose the right charity for your community bank to engage in.


RELATED: Tips on Social Media for Community Banks

Find something similar
Community banks always like working with charities that have similarities to the name of the bank that they are running. For example if the name of your bank is the Children's Bank, then it might be a good idea to engage with a charitable institution that is more focused on helping kids like a children's hospital or an orphanage. Find something similar.
Start small and win big
Once you have chosen a good charity partner to work with, it is always best to start small and not think about the big picture at the start of the partnership. Start by starting a small fundraising activity in your local community and once you notice success in your fundraising campaign, you can then start to strengthen your campaign and start thinking big. Of course when it comes to starting a charity, you will need hard work and dedication so you might need to ramp up your employees as well, so that you can make sure that your charity campaigns will be a success.
---
Social media is essential if you want to expand your exposure. Make sure to download your FREE eBook on tricks on using Facebook for your business.