---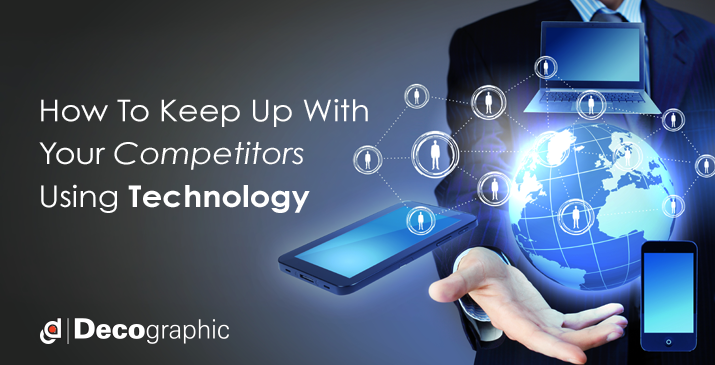 Business News: How Do You Keep Up With the Competition?
Business is a gamble. Starting with the niche that you will be accommodating to the competition that you will be scouting, it is all about taking risks and finding ways to make your objectives happen. Given that we are now in the 21st century: technology, science and development have taken everything to the next level – including businesses.

Today, more and more people are on the internet and would rather make a fast purchase online. This has become a problem for businesses who have a brick-and-mortar store but not an online presence. As they say, if it is not on the internet, it does not exist.

If you are an entrepreneur and you are wondering why your current traditional marketing strategies aren't working, then it is time for an upgrade. In this article we'll be tackling three topics: how to keep up with your competitors using technology, what new tools are available to help today's entrepreneurs, and helpful advice in terms of their future plans using technology.

As a business owner you might find yourself asking the following questions…
How can businesses stay current in the changing technological landscape?


Which recent changes or advances in technology have been most influential for businesses?



What advice would you provide to businesses having trouble embracing new technology?
How can businesses stay current in the changing technological world?
The most terrifying aspect of technology is how much it calls for change. There will always be something wrong or "buggy" in apps and programs and developers are often called for updates and improvements. Businesses are no different. However, one of the biggest challenges you must be facing is how to keep up with your competitors using technology, and the most common piece of advice is to adapt with the changes. We understand this is not the easiest thing to do especially if you are not tech-savvy. Always remember, when in Rome, do what the Romans do.
Therefore, the first thing you must keep in mind if you want to stay in the game is to be well-acquainted with technology and the latest developments. That means keeping up with trends. The best way to do this is to observe the younger generation. Talk to them. Associate with them because the best way to be on the loop is through them as they are always seeking ways to be part of the IT crowd, it is also wise if you immerse yourself in technological trends. For example, if you are thinking of venturing into social media for a future marketing strategy then create an account. There is nothing wrong with testing the waters, especially if it is going to be within your marketing horizon. Who knows? You might enjoy it personally as well.
Another way of staying up-to-date is by having an IT dream team. Think about it this way: do you have enough knowledge about SEO and tech trends to stay afloat? If you can't answer that question then you're going to need some help from experts. What's good about hiring specialized individuals is that they can help you figure out what you are lacking and further develop your marketing plans beyond your current goals. Furthermore, they could do tasks that you are not trained to do such as keyword research, analytics, web development and so on. The best way to select your dream team is to do a bit of research and scouring. This may take some time but trust us, it will pay off in the end.

Given that we are talking about technology, for sure changes and developments are bound to happen. However, not all of these changes may be appropriate for business, so the second million dollar question is…


Which recent changes or advances in technology have been most influential for businesses?
We will have to admit that this question is a tough one. This is because there is so much change happening in the tech world that it takes a while for us to adapt. In fact, once we've adapted to one change, another one pops up. However, we did manage to pin down the most consistent technological advances that will surely help you out.

The first technological advance that you should deeply consider adapting to is the computer. I know what you are going to say… "Well that's obvious", but you would be surprised to see how many business owners actually use a computer. Over the years, computers have gone from bulky to portable and it is, no doubt, one of the most important pieces of technology ever made. What makes this important for businesses is not only because it will help make documentation easier but rather most changes can be accomplished by the use of computers. Whether you are using a laptop, your mobile phone or tablet, these are still computers and they will play a big and essential role if you ever want to stay afloat in the market.

The second technological advance, or rather advances, is the World Wide Web and search engines. Take a pause and look around you. Have you ever seen someone who is not on the internet or on their phone going through their apps? Computers and the internet go hand in hand today and it is highly crucial that this is to be understood by aspiring entrepreneurs. Never underestimate the power of the internet, and never take search engines for granted. At first glance, search engines are merely used as tools to make a student's life easier but today they have gone beyond that mentality. Today, search engines are the best way of being seen by your target market as well as secure traffic and a place in the rankings. As we stated before, if you're not on the internet then you don't exist.
The third one is social media. At first glance, one will just think that social media is a place online that enable you to meet new people and keep in touch with family and friends. That is true in a sense, however, social media has become more than just a place to socialize online – it has become a marketing haven for entrepreneurs. Think about it, what perfect place to look for your target market and conduct studies on how will your brand be received than by social media? Not only can this crowd can be easily reached by a push of a button, but you also save quite a hefty amount if you are to promote your business or a product because circulating information is free (unless you are using their paid ads services but that is another story). Finally, social media is being used to better customer engagement and feedback by providing live customer support. No one is patient enough to listen to the on-hold music anymore since people want immediate answers.

The fourth is cloud computing. Thanks to the internet and technology, business evolution has expanded further and cloud computing is one of the results from that. Cloud computing allows people from your company to work in distances but still come up with workload similar to those who work in offices together. What's amazing about cloud computing is that it has helped small businesses save from unnecessary operational costs as each person can work at the comfort of their own home. Furthermore, cloud computing allows employees to become more flexible with their time without sacrificing efficiency which is highly important if you want to grow your business well.

Fifth is web development. Think about it this way – why rent an expensive but small office when you can have your own office within the comfort of your own home? This is what web development offers to entrepreneurs. But web development is not just your virtual office but it also serves as your virtual storefront. Clients from your area, and possible from other parts of the globe, would be able to see your business and products and/or services with just the click of a button or tap on their mobile phone. Furthermore, web development has allowed entrepreneurs to go into a more personal level with their clientele by providing content that will not just promote their website but also serve as educational information. The more relevant your content is to them, the better you will fare. Need help writing relevant content? Check out our 5 secrets to make your readers love your conent. Also, remember that your website must be responsive and user friendly. If you're having questions about redesigning your site, check out our previous blog on useful tips on how to redo your website.
The changes in technology and the whole market can be scary, especially if you are used to the traditional way of doing things. You might start asking…


What advice would you provide to businesses having trouble embracing new technology?
Don't reject change. Change is a constant thing and as technology improves, there will be changes so it is useless to be so pessimistic about it.



Be informed.

As mentioned, there will always be change and because of that it is important to be kept abreast with the latest developments. You'll never know when it will be handy for you.

At the end, transition into your conclusion


Don't be afraid to make mistakes

from time to time. Would you believe us if we say that we think that failure is the best teacher? The most successful entrepreneur had to face failure and it is because that they failed they have become successful.
Are you keeping up with your competitors using technology? Download our checklist to make sure your website (whether you have one or are in the process of making one) is in top shape:
---
We know that this may sound overwhelming, but by moving your business forward along with technology, you are already on the road to success. Something that some businesses struggle with is how to implement all this technology with a limited amount of economic resources. This is where you should consider a small business loan that can allow you to afford this technological update. A small business loan from Kabbage can help you achieve this goal.
Want to learn more about technology and its impact on businesses today? Check out the video below!

Source: Microsoft Europe
---