Slack is a cloud-based team collaboration tool that has been gaining popularity over the past few years. Nowadays, more people are using the real-time messenger as a tool for collaboration and communication. The application has grown with a lot more people utilizing different integrations that makes their job a little bit easier. Today, there are a lot of integrations you can add in Slack such as polls for your teammates, adding Gifs to messages, track bugs, connect to Google Drive or Dropbox and receive live Twitter updates.
Below are integrations for Slack that you should try out.
---
Giphy
Plain text can be outright boring, especially if you're chatting with a lot of people on Slack. The best way to hype up the conversation and bring life to your messages are adding animated pics, or Gifs, to your messages. The Giphy integration is a great way to add fun and random animated pics to your messages. With a library full of Gifs, all you need to do is to input a simple command (/giphy yourmessage) and watch those gifs flood your message screen.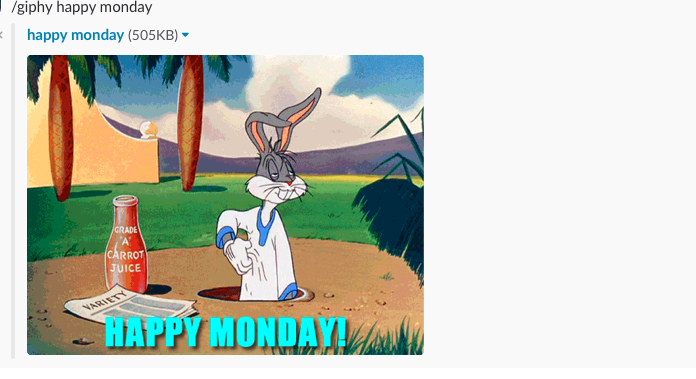 Simple Poll
Wondering what to order at the office for lunch? Having doubts on where to have the next team meeting? Give Simple Poll a try, and guarantee that your teammates will love it! Start a good conversation with a poll using the Simple Poll app which is very easy to use and is fun as well. Add in a few wacky polls and watch as your friends answer the polls and also share fun stories and messages with your buddies.
Google Drive
Google Drive is one of the more useful apps that you can add to your slack app. A lot of users online use Google Drive to store documents and other files online. So why is this app so useful for Slack? For one, it allows you to share Google Drive apps directly from the Slack app. If you have not connected your Google Drive to your Slack yet, then the app itself will guide you through that process. Also one thing to note that once you share a file in Slack, it will not be stored on the app, it will be stored on your Google Drive.
LEARN MORE: Facts About Google that You Should Know
Monkey Test It
Lets face it, everyone hates bugs. Whether it's bugs in real like or online bugs, these little critters can cause a lot of problems in our daily lives. Monkey Test It is a good app for small organizations because it can perform tests and solve common issues such as broken links, Javascript issues and missing images. To test for bugs, normally, you would go to a website that has free bug checks. Why not integrate that free check into your Slack app itself and save the time needed to perform a full scan of small bugs and errors?
These are just a handful of great applications and integrations that you can add to your Slack app. You can try others by searching in Slack's library of integrations and applications and find the right one for you.
---
What are the 30 greatest lead generation, tips, tricks, and ideas? Download your FREE ebook and find out!