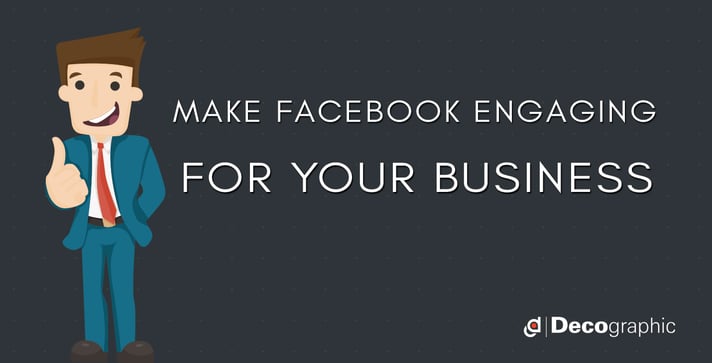 Facebook is one of the most widely used and popular social media websites today. In fact, almost everyone has a Facebook – even pets and children who are not yet legal enough to own one. But aside from that, businesses should know that there is more to Facebook than just to make friends – it is a hotbed of potential clients waiting to see your company on their feed. Make sure you check out our blog on the best pratice's for creating Facebook advertising.
The only problem you will need to face is how to engage these potential clients enough to make them leads. With millions of users on Facebook, how are you going to reach them?
To help you out with that dilemma, here are a few tips on how you can make Facebook engaging for your business.
Tip # 1: Never create a dummy page. Build the real thing.
One of the greatest sins of every social media marketer is to create a dummy account to "test the waters". A lot of people make this mistake because they want to test the waters or do a run-through, but this often confuses a lot of users who manage to find all of your accounts. They might end up not knowing what your real account is at the end. Furthermore, though some would use it avoid making mistakes when it comes to posting the real thing, this goes against Facebook's terms of service and it can allow them to shut it down at any time.
Tip # 2: Be recognized. Use your brand logo as a profile picture
Aside from names, people commonly recognize brands from their logos and/or their color schemes. When it comes to social media profiles, having a profile picture that is easily identifiable with your brand is a good way to go. Not only will you be recognized easily, but your client will also know how or where to find you better. Furthermore, this is also another way of establishing your brand. Just a bit of a bonus tip, the ideal dimensions for profile photos on Facebook are 180 x 180 pixels.
Tip # 3: Engage your audience through your cover photo
Believe it or not, Facebook's cover photos are ingenious. Not only does it spruce up your profile, but it is also a way of creating an effective advertising or call-to-action by simply creating a banner to show there. This is something that people will most likely notice on your page, aside from your profile picture.
Tip # 4: Don't forget to complete your information in the description
Just like blogs, Facebook Pages also have About pages and these are extremely important. Not only do they make your page look more legitimate, but it is also one of the best ways of informing your target market on who you are and what do you offer them. Furthermore, these pages often have your important contact information so that your client is able to reach or find you easily.
---