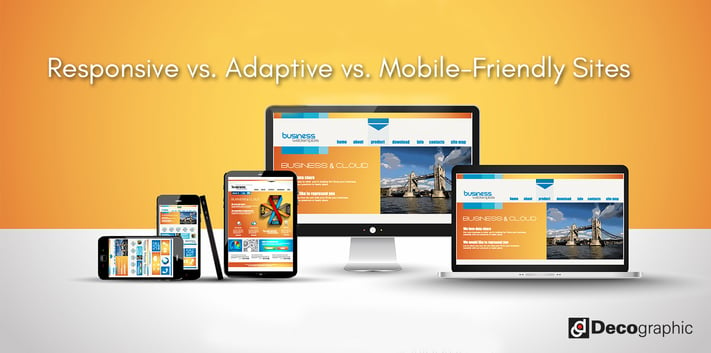 Just because your website has been completed doesn't mean you're done and can forget about it. Responsive? Adaptive? Mobile-Friendly? All these terms can seem confusing. Experts know the difference between these sites. If you think all these terms mean the same thing, think again.
---
Mobile Friendly
It's been a year since the industry was shocked when Google made a switch in the mobile searching algorithm. From then, Google has been in favor of mobile-friendly sites. So, how do you understand the term? It simply refers to a website that works in mobile devices and smaller screens.
Google announced the update a couple of months prior to the change. But people have already been given tips in increasing mobile-friendliness, such as getting rid of software like Flash, which is no longer common in quite number of devices. In addition, the text has to be big enough for viewer to read information of your product or business without zooming. It's also important to have buttons and particularly links with enough space for so your visitor are not clicking on the wrong button by mistake.
RELATED: What You Should Know About Mobile Friendly Websites
Responsive
Although it is obvious that a mobile-friendly site refers to websites that are designed and fit for users browsing on their mobile devices, responsive sites are always mobile-first. In other words, these are the sites which respond based on which particular device you are viewing from. Think on opening a site using your desktop computer where you see different interfaces or layouts. Mobile-friendly site allows you to browse on a smaller scale. Thereby, users should be able to see the entire page without even scrolling.
Mobile responsive websites simply means that they translate to a better version of a single-column layout to any mobile device. Although both may have similar features, there is no responsive site that has no same characteristics to that of the mobile-friendly sites.
LEARN MORE: Why Should Your Website Be Responsive?
Adaptive
Mobile responsive is similar to mobile adaptive. However, both are distinctive when it comes to practice. Believe it or not, these two knows to change dimensions depending on the size of the user's mobile screen. If responsive websites learn to adjust on any screen your device have, adaptive mobile websites only adjust to a few selective points. Marketers inform their webmasters that they have to create a sole size for your site. Adaptive websites may have a number of different layouts, but there has to be just one main one.
---
How is your website ranking on search engines like Google, Yahoo!, and Bing? Find out FREE: