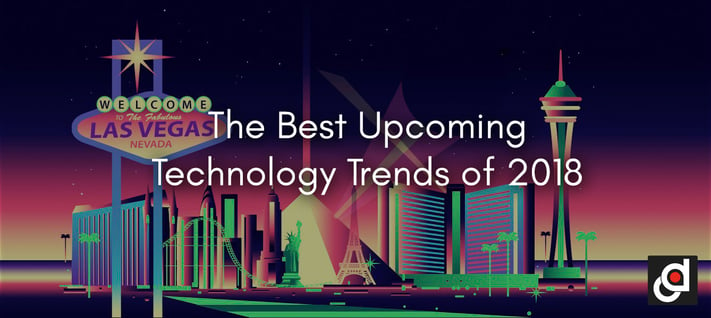 The Global Stage of Innovation (CES) just recently took place in Las Vegas, Nevada. There, presenters staged most of the top of the line tech exhibitions to date. These are some of the tech we will be seeing soon in open markets and what possibly will transpire in the future.
These are the top technology trends of 2018:
5th Generation (5G) Technology
5G refers to the latest fifth-generation wireless broadband technology. The CES panel for this sought after service was headed by the executives of Qualcomm, Ericsson and Nokia. They stated that this could transform industries from transportation up to manufacturing.
5G is estimated to have a download speed of 10,000 Mbps and the stronger ability to run more complex mobile internet apps. AT&T boldly states that they will possibly offer 5G in 12 markets by the end of 2018. They are more focused on having a better geographical footprint over their competitors.
As 5G technology develops and integrates faster to the forefront of the network, experts anticipates a multitude of new services and advance device improvements.
Advanced Artificial Intelligence
AI has been present in every past CES conference and each year it gets more and more advanced and complex. This is one the mainstay topics going around the exhibits and what a lot of clients and presenters are highly talking about.
The AI marketplace can encompass from big data analytics and solutions, speech recognition, learning and decision-making products to predictive technology. The AI Marketplace will showcase revolutionary data models and solutions that will shape the future of businesses.
Smart cars, for example, are becoming more and more convenient for clients. A new voice-enabled bot in development at Hyundai could make life easier for drivers. You can talk to the car to text, make phone calls, get directions, and even open the sunroof or enable the AC.
"Look for technology that start to make a real impact on homes and lives; these are often combined with AI in voice interfaces and intelligent agents," Gownder stated.
LEARN MORE: Can Artificial Intelligence Do Things Better Than Humans?
Automaton Robotics
The biggest role in consumer electronics fits rightly into robotics. A lot of famous tech market brands have unveiled their best robotics services that they can possibly offer to the point some brands are even opening pre-order plans.
Sony's Aibo dogs are back, and impressing the clienteles of Las Vegas. While the looks are largely the same, these robotic man's best friend are a lot smarter on the inside. They're able to recognize faces and respond to commands, as well as perform the usual canine tricks, such as picking up a bone from the floor. As of now all we know is the Japanese price of 198,000 JPY (roughly $1,755), and there's a subscription fee on top of that.
Hanson Robotics releases a demonstration of their advanced humanoid robot, Sophia. She isn't market ready yet but she is an example of just where robotics tech is heading to.
RELATED: A Brief History of Bots and its Impact Today
Voice Control and Advancement
Auditory input control tech has been rapidly growing in the market. Amazon's Alexa has been so popular that it stated that it has roughly sold tens of millions of Alexa-enabled devices worldwide just last month.
Some of the biggest developments in technology have come in the area of voice control home automation. Amazon Echo, Google Home, Apple's HomePod and Microsoft's Cortana are a few examples of voice-activated devices. All include "smart" speakers that respond to users inside the home and can perform operations.
Experts with the Consumer Technology Association say sales of smart speakers are expected to nearly double in 2018, to $3.8 billion. "That market is not just heating up. It is a wildfire," sai researcher Steve Koenig told Agence France-Presse.
Mobile Facial Recognition
Our cell phones are becoming more and more like portable PCs and features like facial recognition are getting more popular. The market is growing accustomed to the ease of security and assurance facial recognition offers.
ZenFone Max Plus is the first of Asus' ZenFone phones to feature Face Unlock. Already available in the Apple iPhone X (Face ID), the Samsung Galaxy S8 and Note 8 and the OnePlus 5T, facial recognition is a steady-growing trend among phones as an additional or alternative biometric security layer to fingerprints.
Netatmo has unveiled their home-monitoring camera with face-recognition technology. This sleek, tubular camera system is designed to send notifications to an iOS or Android smartphones when someone unrecognizable enters the home. This $70 product came to market last fall.
Practical Virtual Reality
It's no secret that virtual reality is changing our lifestyles. Virtual Reality is one of the most common and most accustomed to trend in the past markets. The only thing we have to keep an eye on is its newest cases for advancements and innovations. It's still waiting to become useful. We have nice headsets and they're getting more affordable, and you can get your Windows devices in VR now but even the biggest VR fans are still trying to find out exactly what to use it for.
RELATED: The Evolution of Virtual Reality
At CES 2018, presenters showed new technologies moving us closer to a more useful service for VR. Looxid has presented their idea of what VR is. Their VR headset uses eye tracking to apply this insane Type-A level of perfection to virtual reality. As users explore an environment in VR, the headset tracks both your eyes and brain activity, using an imposing set of electrodes embedded in the headband. The eye tracking can tell what you pay attention to, and the electrodes can tell what affect those stimuli have.
Cities of Tomorrow
CES ramped up the production as it focused on the concept of smart cities. These cities cover most of all the trends and concepts showcased around CES. This aims to bring together the technologies to the evolving sectors.
The team at CTA believes that CES has such a broad diversity of technologies and industries from data and sensors to digital health to mobile. They say there is nowhere better for city planners and leaders to explore these evolving, innovative technologies.
The United Nations has predicted that around 66% of the world's population will live in urban areas by 2050. So, now is the time to harness technology's potential to improve urban life.
---