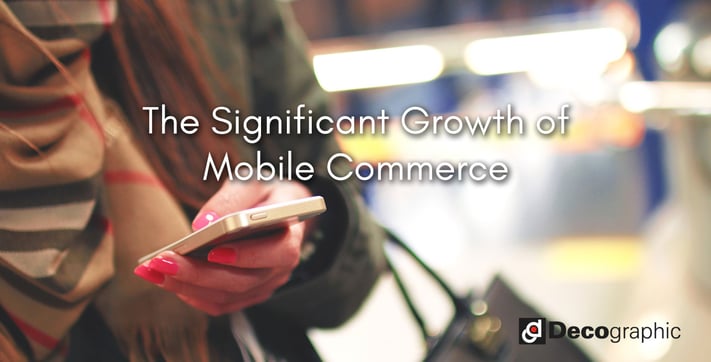 Mobile commerce has shown an astonishing growth since 2015. The significant growth of mobile commerce is exhibited in the amount of business services that are available on mobile devices. From mobile money transfer, mobile ticketing, mobile vouchers, coupons, loyalty cards, content purchase and delivery, mobile marketing and advertising, smartphone applications for mobile purchases and phone payments, mobile banking down to mobile browsing.
---
Mobile commerce is constantly growing as an integral part of a massive commercial growth in the digital market. The importance of a website growth of mobile commerce is because of the "I am mobile therefore I am" mentality which is manifested by the growing number of smartphone and tablet users, ranging from corporate members, young professionals, housewives, teens and even toddlers. All of whom are potential consumers of all the products and services offered by mobile commerce.
RELATED: Mobile Use is Exploding, Don't Get Left Behind
Failing to provide a mobile-friendly client experience might just be putting you at a great business disadvantage, given the growing approval of the public to the use of mobile shopping and mobile Internet, especially because of the highly technological world we thrive in today.
The importance of a mobile site growth boils down to the emergence of e-commerce websites. The rapid increase in the number of smartphone owners who are opting to use mobile applications in enjoying various products and services has also paved the way to the immense growth of mobile commerce.
For example, between physically going to the bank to deposit a check or transfer money (which also includes standing in line), or using the bank's app on your cellphone? Or let's say between shopping in crowded malls or using your smartphones to easily browse online?
LEARN MORE: Why Wordpress E-Commerce Websites Are Better
Your choice might stem from the fact that mobile commerce saves you more time, more energy and more resources. Plus it gives you more options to choose from, unlike when going to physical stores where sizes may be out of stock. With the increasing number of consumers like you who use mobile services especially for shopping products, paying for purchases and researching by browsing on search engines, the importance of a mobile site growth of mobile commerce is much more reiterated.
Despite the promising growth shown by mobile commerce, there are also some roadblocks to this development. Research shows that the top challenge encountered by mobile commerce are the fad of small screened devices, technical downtime of mobile sites and mobile automated systems which may generate automated answers which are not responsive or tailor-fit for each individual consumer.
LEARN MORE: What You Should Know About Mobile Friendly Websites
---
Are you also integrating mobile commerce with your digital marketing strategy?
Give us your thoughts and insights.