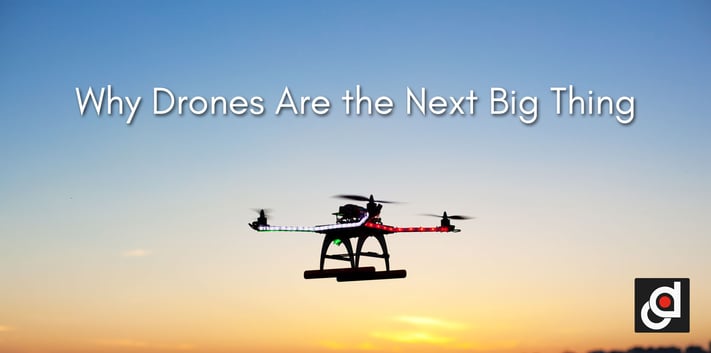 Sometimes known as Unmanned Aerial Vehicles, or UAVs, drones have impressively become so popular and have been tagged as one of the best inventions of all time. But why, you may ask. This is because drones offer a variety of uses and are instrumental to the revolution of productivity and efficiency of diverse businesses and institutions, such as filming/journalism, cargo and delivery, disaster preparedness, rescue procedures and even law enforcement and military operations.
Below is a list of the vital functions of drones in today's world and why drones are the next big thing:


Brief History of Drone Technology and Today's usage
Drones have existed for more than twenty years now, but drones take us back to World War I, a distressing era where America and France combined forces and innovated aero planes that were automated and which did not need to be manned. But in terms of the drone's historical background, it was not only in the early 2000's that significant development was achieved, with this technology spreading across the borders and penetrating various sectors. From being an important part of military operations to attracting people with passion for aerial filming worldwide, the existence of drones has become a massive innovation during these past few years.
RELATED: Why You Should Use 360 Video for Your Business
Drone Technology: Military Operations
The use of drones in the military is the reason behind the proactive development of drone technology. They are being used for special force missions, ongoing research and management of military operations. With this being said, it is no secret that drones have become a significant part of the military industry globally.
Research shows that the budget for drone development in the military sector will remain to be the highest among all the other industries. An estimate of $70 billion on drone financing is projected in the year 2020. It is foreseen to substitute humans in manning airplanes, which is a significant future development.
Drone Technology: Commercial Use
There is a sustained increase in utilization of commercial drones. It has become the focus of businesses because various corporate sectors are using drone technology as a piggyback to their usual business innovation. Statistics show that commercial drone technology is one of the top technology trends of 2017, and will increment on a whopping rate of 19% somewhere between 2015 and 2020, in comparison to its growth in the military industry. The commercial sector for drones is still in its beginner stage, but it possesses a very impressive future when it comes to the funds that global companies and corporate industries entities willing to invest on this technology.
Drone Technology: Personal Usage
A study has shown that the projected sales for drones for personal consumption is at $12 billion by the year 2021. A large portion of this figure will mainly cover personal usage of drones for advertising, filming, photography and entertainment purposes of hobbyists.
Drone Technology: What's in store in the future?
The innovation of drones is consistently growing, this is the reason why the future of drone technology is remarkably promising and quite interesting for tech-savvy consumers.
---