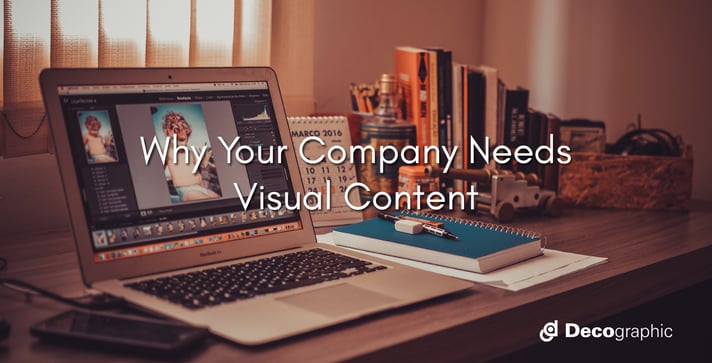 Business owners are always taking advantage of the internet to promote their business and gain clients by using their websites, blog, or social media. Lately, visual content has been the main focus of businesses and even large brands are taking advantage of it. Visual content might be tricky at first especially if you are new to online marketing, but once you get the hang of it, you can notice a significant change to your website in terms of traffic.
---
There are a lot of strategies that involve visual content that your brand can use to boost traffic and sales for your company and website, read below to learn why your company needs visual content.


Related: Why Visual Content is Important in Your Marketing Strategy


Email Marketing
Visual content can be used to great effect when it comes to email marketing. Sometimes, email that only has plain text can be boring to the reader, which will make your prospect uninterested in your product/service. Adding visual content to your email marketing campaign can promote interest to your emails. Also, embedded link to the visual content can direct your reader directly to your website.
RELATED: How to Create a Successful Email Marketing Campaign
Giveaways
Who doesn't like giveaways? Even you as a business owner would agree that one of the more effective ways to gain brand warriors is to provide giveaways to your potential clients and customers. Adding visual content to the freebies that you are going to give away to your prospects can make the freebie more realistic and can earn you a great amount of followers. Another way of using visual content with your giveaways is to use social media websites like Facebook and create a good cover photo with the giveaway along with a link.

Sharing behind the scenes videos and photos
Sometimes your customers will do business with you because they appreciate what you are doing with your employees when it comes to company activities. Creating visual content that contains videos and photos especially if it is related to your brand and what you are selling, can entice the magic that brings more customers to your company.
Educating and informing
Visual content is a very powerful tool when it comes to educating and informing audiences. Companies have been using visual content for their step by step guide on installing and maintaining their products for years.


RELATED: The Value of Content Value Creation


Why does visual content work and why you need it?
Visual content has been used for a long time now and even before the time of the internet. The advantage of using visual content online over traditional visual advertising such as billboards and television ads is that you can save more time and money when making your own visual content.
Visual content enhances the ability of your website to gain visitors as well as retain visitors that are in your website. The more traffic you get, the better chances you have in obtaining a good customer base. Posts with videos can attract three times more visitors than those that have only plain text. Also visual content marketing is quick and easy and brings more life to your posts than plain text posts with links.
---
Social media is an important aspect of your digital marketing campaign. But it can get overwhelming if you don't keep track of it. Download this FREE editorial calendar to help you