For those of you folks who don't know, AR stands for Augmented Reality. This technology may be new to some of us, but not to others. AR is a perspective of a physical, real-world setting in which environmental elements are augmented by computer-generated sensory data such as sound, video, or graphics. Our phones and tablets are slowly overpowering our daily lives, which is why AR has taken its game to a higher notch. With Apple finally launching its AR kit and Android has launched their AR Core, consumers are getting more excited for what this technology can bring to the table.
Due to this emerging technology, we have made a list of top trends for augmented reality in 2018:


AR will continue to rise above VR
The evolution of the market of Virtual Reality has significantly slowed down contrary to what business analysts had foreseen. One of the many reason why virtual reality has disappointed the fearless forecast of various analysts is because of the lengthy shipment lead time. A huge amount of orders have been cancelled because customers are no longer happy of the fact that their orders are taking so long to arrive. One of the other barriers is because of the price, especially for its heads up display (HUD) devices. Customers are finding it very expensive and inconvenient to have the need to provide a high caliber desktop with top of the line specs to be able to experience its games and apps.


AR will continue to go mobile
Pokemon Go has certainly raised the bar of mobile AR. It has proven that even while the object is moving, AR is still able to determine these features while accurately incorporating virtual objects into the picture.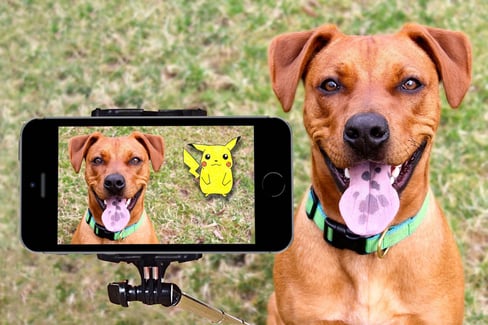 Despite the huge success of mobile AR this year, there are a few factors that they need to address for the coming seasons. First, the battery life of the user's device. The user must possess longer battery life in order to enjoy mobile AR. Second, mobile connectivity because AR cannot be experienced without the connectivity to WiFi or data connection. Last, the availability of a device. The focus of the challenges faced by AR is the presence of a device. However, analysts are looking into the fact that mobile phones will become a more popular platform for the consumers using AR features.
RELATED: Why Augmented Reality Should be Part of Your Marketing Plan
AR will beat the "novelty app" notion
Pokemon Go has paved the way to the massive acceptance of the consumers of AR experience. But it seems to be a double-edged sword because it has created a label that Augmented Reality is just a novelty. Although Pokemon Go has greatly maximized the AR technology, it should not be the only thing used to of evaluate AR. With the upcoming launching of AR Kit and AR Core, people will surely be in awe with the capacity of AR.
---